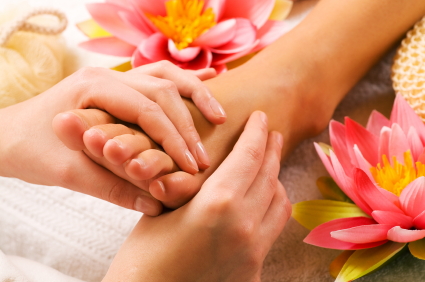 At least 78 % of the adult population will experience a tension headache at some point in their lives, 13% of the US population- or 29.5 Million Americans- suffer from debilitating migraines. Headaches create, and intensify with, physical and emotional stress, and they can affect sleep, work performance, and appetite. The time-proven art of reflexology, however, is one clinically proven remedy to relieve the nagging pain headache cause.
Reflexology maps depict the relationship between the human body and the reflexes in the feet and hands. A reflex is a specific area that when worked, produces a change in the body. The reflex is not on the skin, but in the tissue. When pressure is applied to often tender points on a foot or hand, change take place in the areas to which these reflexes correspond throughout the rest of the body. The beauty of reflexology is that working the great toe, all toes, and forefeet affects all systems. Isolation and fine-tuning reflexes with skilled touch produces a larger degree of therapeutic change.
Reflexology can be performed safely and effectively in situations where massage and movement are contraindicated. For example, immediately following an accident, injury, stroke, or surgery, the tissue in the head and neck may be inflamed, bandaged, painful, or in a state of recovery. The reflexive action of reflexology offers a means to ease discomfort and support healing process to the injured area without ever touching it.
The following experience illustrates that reflexology is appropriate when other bodywork is contraindicated, as it works reflexively on the targeted areas.
A client in her 70′s, who comes in regularly for bodywork for discomfort in the head, neck, and upper shoulders, presented bandages on her neck from recent skin surgery. Working on her neck was contraindicated. Reflexology released her muscle tension, and improved mobility and circulation in her head and neck. When in doubt- get your feet worked on!
This article was written by Paula S. Stone- Massage & Bodywork Magazine July 2011