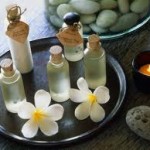 Spring is right around the corner- maybe even here now. With this means- less clothing &  more skin reveled! Whatever your  birth date is, look even more amazing naked with these tips for showing off more skin.
"Skin on your body ages the same way your face does: Cell turnover slows and collagen break down, causing scaliness and sagging. Glow from head to toe and keep skin supple with a body cream that contains exfoliating acids to remove dry layers. Look on the label for H2o-attracting hyaluronic acid and collagen- building peptides to soften and firm."
As a massage therapist- I see a range of bodies & skin types. Protecting the entire body is necessary & can be fun when worked into body treatments & nurturing rituals. I am a big believer in "time on the yoga mat" to give skin that inner glow of radiance & grace. However, I also believe in regular facials & saturating the entire body with natural derived products that work! As my Nana would say- "That dress you want will be out of style next season- Your skin is with you LIFETIME." I can always tell the ladies who have been on a long term skin/body care program. There is a softness and an elegance within their look.
"Bodies love self love and at the core- that is the basis of true healing-  a commitment to a skin/body care program is a fabulous way to show yourself exactly that and look good at the same time."
My Mill Valley office- PUREVANA SKIN CARE….has an amazing collection of products that reverse sun damage (hello- I was a lifeguard for 4 years) and erase fine lines (almost 40)  I personally use organic massage lotions and creams in my massages so not only are you receiving the benefits of relaxation & stress management but we are also addressing the quality of your skin. This month I am  featuring an OSEA body products. The undaria algae oil delivers ultimate skin repair and will leave your skin so incredible smooth- you will want it to stay that way….. Some information for this article was taken by Self Magazine…